Position
Community Engagement Director
Schedule & Pay
$67,000 annual
W2 salaried position
40 hours per week
UPDATE – WE ARE NO LONGER ACCEPTING APPLICATIONS
Racial Justice Coalition is currently hiring for a Community Engagement Director. This position manages our Every Black Voice program, working closely with the Canvassing Director and Canvassing Team to bring more Black voices to the creation of reparations in Asheville and Buncombe County. The role also works closely with the Executive Director, representing the organization and our work to the wider community.
Position Overview
As RJC's Community Engagement Director, I seek to engage thousands of Black community members, gather information, and identify specific needs, wants, and dreams to inform RJC's advocacy. I oversee operational and logistical elements regarding community field organizing. I lead the Every Black Voice Campaign which utilizes approaches of community engagement such as canvassing, community events, and grassroots organizing to promote Black joy and lift Black voices. The Every Black Voice Campaign is centered around reparations and reimagining what is owed to the Black community.
Areas of Responsibility
Outreach
Work with the Director of Development to create program and campaign budgets to support needs.
Lead and manage Every Black Voice Campaign and the different facets of the campaign.
Collaborate with the Canvassing Director to implement strategic plans on geographic goals for traditional canvassing and areas where community members will be gathered.
Create engaging program materials to educate community members of our initiatives, provide historical context, and identify ways they can get involved.
Develop communication and outreach strategies that are accessible and account for different communication styles to engage (previously unreached) community members.
Evaluate program and campaign needs regarding positions that need to be hired for and where there are gaps in scopes of work.
Design sustainable and creative ways to engage with community members and participate in community events.
Collaborate with other local leaders and grassroots led organizations finding areas of overlap in work and identify ways to support and work with each other.
Build trust within the community consistently by following through, keeping community members and organizations in the loop, and distributing resources and information obtained by the organization.
Plan community driven events with the purpose of bringing together Black community members. Collaborate with local leaders and organizations to host events and further the sharing and communal knowledge of resources.
Plan and co-lead bi-monthly Community Calls where we discuss RJC updates and Volunteer opportunities
Engage in public speaking engagements and presentations to outside organizations
Internal
Guide and influence processes to define organizational long-term and short-term goals and actionable steps to accomplish established goals.
Continue the expansion of racial equity lens as an individual and organization through research, training and professional/community development opportunities.
GAP
Be ready to mobilize as a part of the community relations team if the GAP Strategy team needs to gather input and information from the community.
Stay up-to-date on the GAP reports and identify areas of overlap
Research
Create strategies for disseminating data and reports derived from community based research.
Oversee research processes, such as the transcribing and coding of verbal interviews, and assist in the creation of reports derived from community engaged research.
Core Team Agreements
RJC can only thrive when we bring our different lived experiences, perspectives and neurodiversity to the discussions. As part of the core team, in addition to fulfilling our job requirements, we cocreate the culture and practices of this organization.
Uphold the mission and beliefs of the RJC in your work and communications
Actively engage with the team and initiatives
Attend team meetings
Attend events hosted by the RJC and other community organizations
Act as RJC liaison for select organizations where there is a pre-existing relationship or shared interest area
Follow the protocols described in the Team Handbook and collaborate to improve them as needed
Manage administrative tasks (i.e., email, Signal messages, Asana tasks, track hours and activities via Clockify, etc.)
Establish and implement a healing justice plan for yourself
Skills
Highly skilled at project management; can quickly understand next steps and delegate tasks
Ability to plan events and manage the many moving parts
Ability to be self-directed, self-motivated, and hold themselves accountable to the work
Very organized
Comfortable with giving presentations and light public speaking
Moderately comfortable (after training is provided) with apps such as Google Drive, Canva, Zoom, Asana
Willing to occasionally shift work schedule to weekends during events
Qualities
Passionately dedicated to the thrival of Black and African-American people
Sociable and warm; enjoys being in community spaces
Ideally has long standing relationships in the Asheville/Buncombe Black community
Emotionally self-aware and able to self-regulate (for example, if you know an event will be draining, you take steps to resource yourself before, during and after)
Job descriptions will be reviewed from time to time and updated depending on the organization's evolving needs.
What We Offer
We believe everyone deserves a caring wage, regardless of what opportunities they did or did not have. Everyone on our team is paid $32.30/hour (1.6x the 2023 living wage for Buncombe County)
Membership to Brookhaven Direct Primary Care + $200/month health stipend
Loving accountability unlimited time off policy
Hybrid position with a flexible schedule
Community Development activities about 10 times a year, where together we take time to do something fun, educational, or both. Past examples include Hood Hugger tours, local yoga, Zen meditation, and an exploration of racial capitalism
An actively antiracist, antisexist, non-hierarchical workplace where we strive to create a culture of belonging and cut out white supremacy culture.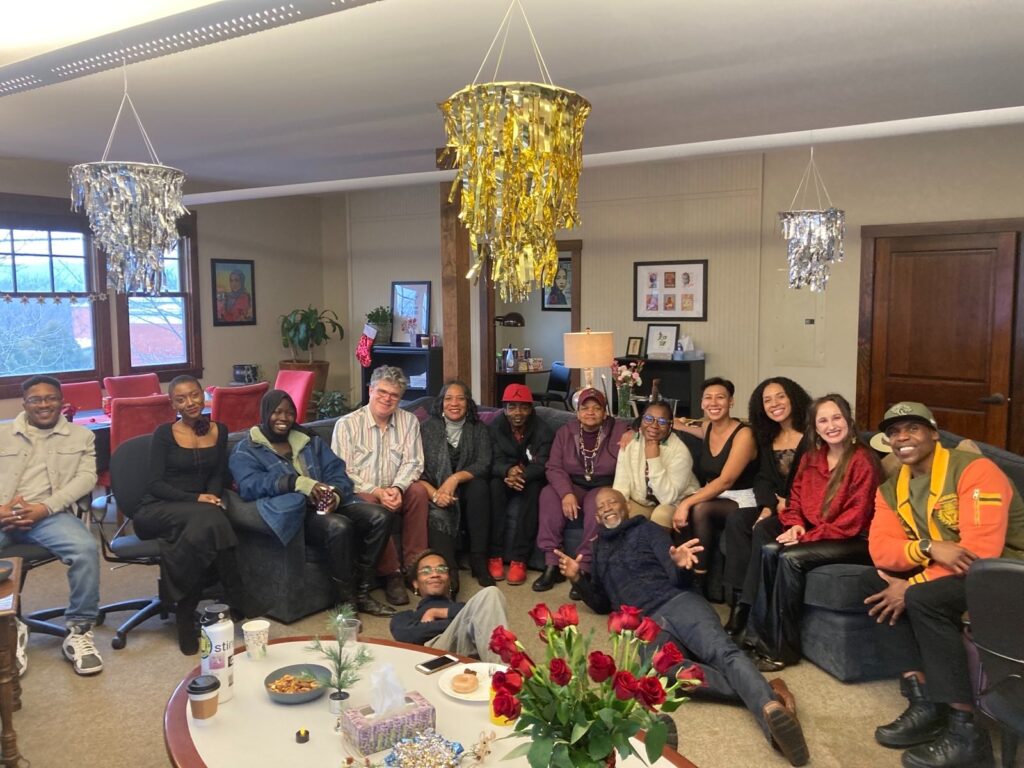 Best job I've ever had. Hands down.

– former RJC employee
Application Information
RJC is looking for applicants committed to social justice work, and applicants from diverse backgrounds are highly encouraged to apply. Previous justice involvement (formerly incarcerated) is not a barrier. We also realize systemic racism and sexism can lead to imposter syndrome; even if you don't look like the perfect fit on paper, we strongly encourage you to apply.
Please tell us about yourself and send a resume or letter/video of interest by submitting this form. If you have trouble using the form, you are also welcome to email us at hiring@rjcavl.org.
Learn more about Racial Justice Coalition: rjcavl.org, everyblackvoice.org