Position
Director of Development
Schedule & Pay
$67,000 annual
W2 salaried position
40 hours per week
Start Date
September 2022
UPDATE – THIS JOB HAS BEEN FILLED
Do you find joy in securing a strong donor base, nurturing relationships, and planning events? The Racial Justice Coalition is looking for someone with a person-centered heart that is driven to spark connections as well as an organized logistics brain that isn't afraid of a spreadsheet. Crucially, you share the deep core value of achieving and sustaining true equity by building power to those historically underrepresented and reimagining a community where justice exists for all people.
Position Overview
The Director of Development is responsible for the oversight of the Racial Justice Coalition's fund development and financial sustainability. They will develop and implement a strategic plan to raise vital funds, and cultivate relationships with individuals, small businesses, and corporate donors. Their duties will include the creation and management of fundraising campaigns, planning and execution of fundraising events, interacting with donors to encourage ongoing contributions, and seeking out new opportunities for financial support. The Director of Development will work closely with the Development Team to establish funding relationships and secure resources that support the RJC's mission and long-term strategic goals. The ideal candidate will have demonstrated fundraising and fund development experience, as well as a commitment to racial justice and equity work.
Areas of Responsibility
Develop a funding plan annually to maintain the fiscal health of the organization and provide future financial resources for growth and expansion.
Collaborate with the Development Team and Core Team to create an annual budget and strategic plan.
Act as the primary point of contact for funding, donations and fundraising event inquiries.
Collect, organize and maintain complete and accurate database records of donors and funding received. Establish tracking tools and monitor monthly.
Design and produce fundraising campaigns, as well as marketing, promotional and outreach materials. Collaborate with the Communications Team as needed for digital messaging to nurture engagement and share impact.
Work collaboratively with Fundraising and Event volunteers to offer management, production and oversight of internal fundraising events, including developing and managing production timeline, budget, securing in-kind donations and sponsorships, and evaluation.
Track expenses and ensure the organization operates efficiently and within budget.
Work collaboratively with RJC team members as needed to secure resources for ongoing and new initiatives.
Core Team Agreements
Uphold the mission and beliefs of the RJC in your work and communications
Actively engage with the team and initiatives. RJC can only thrive when we bring our different lived experiences, perspectives and neurodiversity to the discussions.
Attend team meetings
Attend events hosted by the RJC and other community organizations (when you are able and when it is appropriate)
Act as RJC liaison for select organizations where there is a pre-existing relationship or shared interest area
Follow the protocols described in the Team Handbook (or collaborate to improve them when they don't meet your needs)
Manage administrative tasks (i.e., email, Signal messages, Asana tasks, track hours and activities via Clockify, etc.)
Establish and implement a healing justice plan for yourself
Job descriptions will be reviewed from time to time and updated depending on the organization's evolving needs.
What We Offer
We believe everyone deserves a caring wage, regardless of what opportunities they did or did not have. Everyone on our team is paid $32.30/hour (80% higher than the 2022 living wage for Buncombe County)
Community Development activities about 10 times a year, where together we take time to do something fun, educational, or both. Past examples include Hood Hugger tours, local yoga, Zen meditation, and an exploration of racial capitalism
An actively antiracist, antisexist, non-hierarchical workplace where we strive to create a culture of belonging and cut out white supremacy culture.
Hybrid position with a flexible schedule
Professional judgement time off policy
We are working on obtaining traditional benefits like health and dental insurance, and expect to have those in place in 2023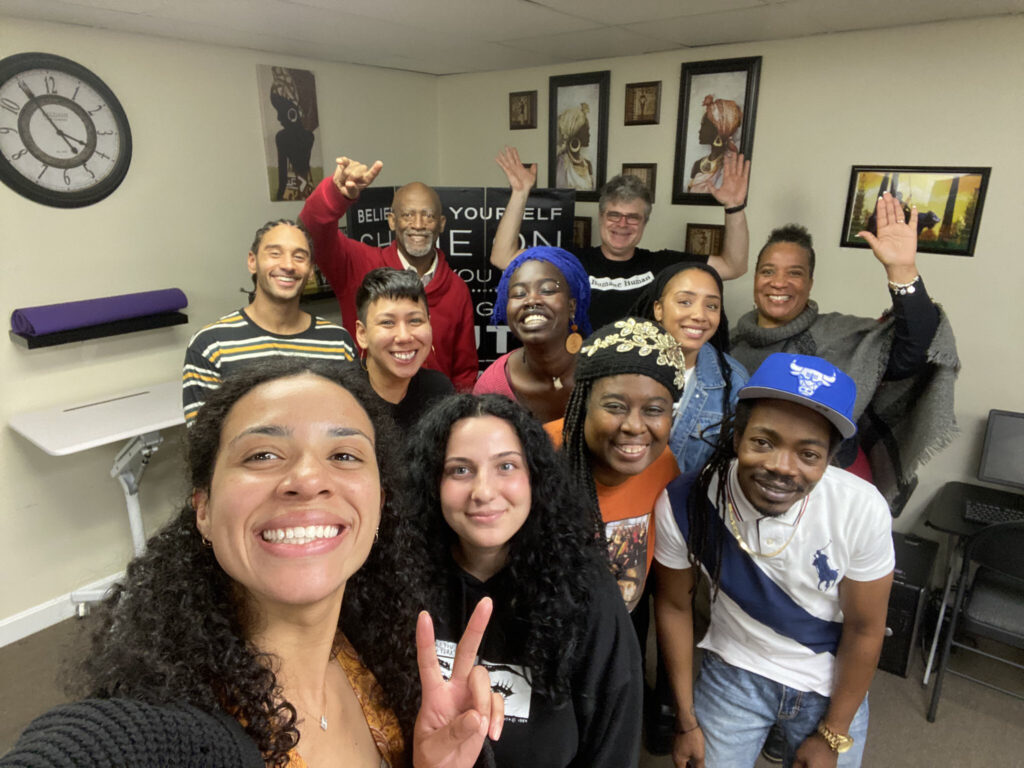 Best job I've ever had. Hands down.

– former RJC employee
Application Information
RJC is looking for applicants committed to social justice work, and applicants from diverse backgrounds are highly encouraged to apply. Previous justice involvement (formerly incarcerated) is not a barrier for the right candidate. We also realize systemic racism and sexism can lead to imposter syndrome; even if you don't look like the perfect fit on paper, we strongly encourage you to apply.
Please tell us about yourself and send a resume or letter/video of interest by submitting this form. If you have trouble using the form, you are also welcome to email us at hiring@rjcavl.org.
Learn more about Racial Justice Coalition: rjcavl.org, everyblackvoice.org